10 € DISCOUNT FOR YOUR FIRST ORDER!
10 € DISCOUNT FOR YOUR FIRST ORDER!
Verdicchio
Verdicchio bubbles: freshness and elegance from the heart of the Marche region
Verdicchio 's bubbles represent the freshness and elegance of the vine, with their distinctive characteristics and their unique flavor. Let's discover together the peculiarities of these bubbles on the vinove.it portal.
The origins of Verdicchio bubbles
Verdicchio bubbles have origins in the Marche region, a region in central Italy famous for the production of quality wines. This native Verdicchio grape is used to create fresh and aromatic bubbles.
Characteristics of Verdicchio bubbles
Verdicchio bubbles are characterized by their freshness, liveliness and aromatic profile. They offer a bouquet of scents of white fruit, citrus and spring flowers. In the mouth, they have a pleasant acidity, a subtle effervescence and a balanced structure. These bubbles are ideal to be enjoyed as an aperitif or to be combined with fish dishes, fresh cheeses and light appetizers.
The production area
Verdicchio bubbles are mainly produced in the Marche region, in particular in the wine-growing areas of Jesi and Matelica. These hilly areas, with their mild climate and calcareous soils, offer the ideal conditions for the cultivation of the Verdicchio vine and the production of high quality bubbles.
The producing cellars
In the Marche region, numerous wineries are passionately dedicated to the production of Verdicchio bubbles. Cantina Umani Ronchi, Cantina Garofoli and Cantina Colonnara are just some of the renowned wineries that produce high quality bubbles based on Verdicchio.
Buy your Verdicchio bubbles on Vinove.it
If you want to savor the freshness and elegance of Verdicchio bubbles, visit the vinove.it website. Here you will find a careful selection of Verdicchio bubbles from the best cellars, ready to be tasted and appreciated on any special occasion.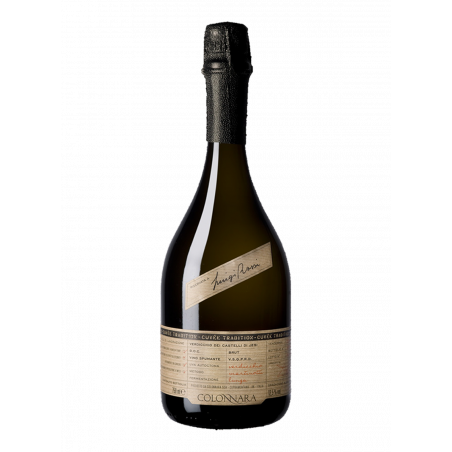 COLONNARA
Price
€9.36
Regular price
€12.00
-22%