10 € DISCOUNT FOR YOUR FIRST ORDER!
10 € DISCOUNT FOR YOUR FIRST ORDER!
Alta Langa
Alta Langa red wine: the elegance of Piedmont
The Alta Langa red wine represents the elegance and excellence of Piedmont, with its millenary history and distinctive character. This fine wine, produced mainly from the Nebbiolo and Barbera grape varieties, offers a unique food and wine experience. Let's discover its peculiarities together on the vinove.it portal.
The origins of Alta Langa wine
Alta Langa wine has ancient origins in the hills of Piedmont, in Northern Italy. This area, located between the Langhe and Monferrato, is characterized by a continental climate and calcareous soils. These unique conditions contribute to the production of high quality wines, such as the Alta Langa .
Characteristics of Alta Langa wine
Alta Langa wine is characterized by its elegance, structure and complexity. It offers notes of red and black fruit, accompanied by spicy and floral nuances. In the mouth, it has good acidity, soft tannins and a long and persistent finish. These wines are known for their ability to age, developing even more harmony and sophistication over the years.
The territory of the Alta Langa
The Alta Langa vine finds its ideal habitat in the area of the same name in the Alta Langa, located in the south of Piedmont. The vineyards extend over limestone hills, which give the wine its structure and minerality. The continental climate, with hot summers and cold winters, favors a slow and optimal ripening of the grapes.
The cellars of the Alta Langa
In the Alta Langa, numerous wineries are passionately dedicated to the production of Alta Langa wines. Cantina Cascina Adelaide is one of the most renowned and appreciated wineries, with a long tradition in the production of high quality wines. Their dedication to excellence is reflected in the Alta Langa wines they produce.
Buy your Alta Langa wine on Vinove.it
If you wish to savor the elegance of Alta Langa wine, visit the vinove.it website. Here you will find a careful selection of Alta Langa wines from the best Piedmontese cellars, ready to be tasted and appreciated.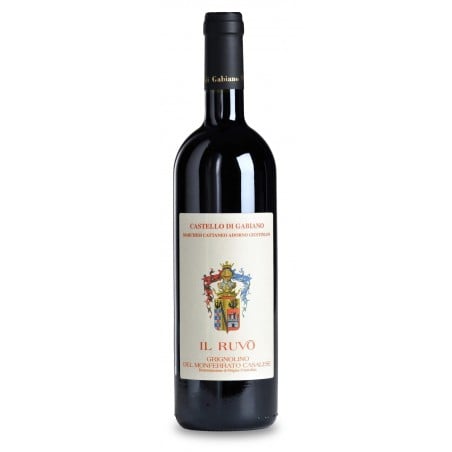 CASTELLO DI GABIANO
Price
€59.40
Regular price
€66.00
-10%